Whiteside 5920C 2-Wing Large Raised Panel Router Bit 3-1/4″ D with Back Cutter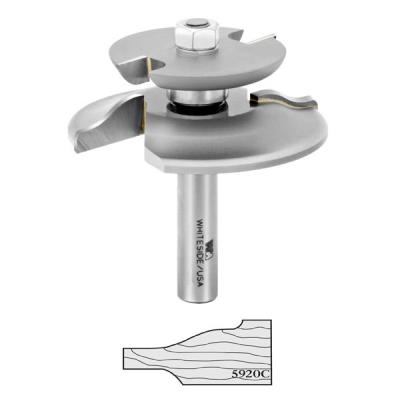 Whiteside 5920C 2-Wing Large Raised Panel Router Bit 3-1/4″ D with Back Cutter
Description
If you are going to make raised panels with the optional back cut, Whiteside?s large 2-wing bit with back cutter is a safe an economical way to do so. These bits have massive carbide cutters and a ball bearing guide which allow you to cut the front reveal and back cut at the same time with a guaranteed 1/4? tongue in the process. Whiteside recommends running these at 10,000 to 12,000 RPMs and that you make three passes when routing out the panels.
For your convenience, we have added the cut profile to the bit?s image.
Proudly Made in the USA
1/2″ shank
3-1/4″, large, diameter size with bearing
5920C Style: Ogee Cove
Whiteside Machine Company has been making top quality router bits since 1970. Using the latest technology, up-to-date machinery, and expert craftsmen, they make a bit that features thick, high grade carbide, accurately ground to produce the smoothest finish cuts on your work. Each bit is inspected after every manufacturing step to ensure satisfaction and consistent quality.
Only logged in customers who have purchased this product may leave a review.