Description
Milescraft Safety Set – D/T Featherboard + PushStick.
Bundle Contents:
1 X Milescraft – D/T Tandem Featherboard (WC-148421).
The Milescraft Model 1407 D/TFeatherBoard has the dual slide motion and unique pre-load tension design features of the 1406 FeatherBoard and includes a sturdy spacer for tall stock cutting operations. The D/TFeatherBoard includes two 3/4-Inch and two 5/8-Inch miter bars as well as four T-Slot bolts allowing it to be used as either dual OR tandem feather boards in nearly any application on router tables and table or band saws.
Mounting Hardware Included for nearly any dual or tandem application
Dual Slide Motion-side to side and forward action for quick and easy setup
Unique Pre-Load Tension Design
Split rail miter bar construction-provides maximum hold
Includes sturdy spacer for tandem FeatherBoard operations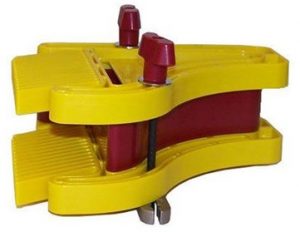 ---
1 X Milescraft – PushStick Hand Safety Device (WC-161960).
Extra tall handle moves the operator's hand away from potential danger. Rear foot hooks over the back end of the material while the bottom of the PushStick™ is covered in a soft, high-traction polymer coating that prevents slipping and avoids marring the surface of the workpiece.
High-visibility yellow for easy identification in a busy shop
Tall offset handle away from blade or bit location for extra safety
Rear hook provides combination "push-pull" action for extra control
TPE high-traction polymer coating on the underside of base for extra grip
Narrow profile guides between blade and fence for thin ripping cuts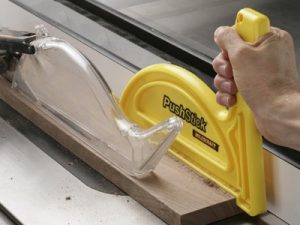 ---
---