Description
MicroJig Pushblock System Grr-Ripper 3D Advance (MIC GR-200).
The Gripper is a revolutionary, universal pushing jig for all table saw, router table and jointer users. This is the first tool that grips and holds both sides of work piece during a ripping operation. Unlike a push stick or push block, the Gripper maintains balanced pressure on a work piece as it passes through and beyond the blade. Maintains a parallel, forward direction with the blade while keeping pressure against your rip fence to prevent burning. Eliminates the need to feed stock with your bare hands providing 100% protection. You can cut strips as thin as 1/4″ without any special setup so there is no need to throw away those small scrap pieces. The unit can be offset to accommodate small, irregular shaped, pieces on the router table. Includes main body, handle, 1/4″ side leg, 1/2″ side leg, center leg, adjustable spacer, stabilizing accessory plate, balance support and comprehensive users manual.
Eliminates the need to feed stock with your bare hands
Universal pushing jig for all table saw, router table, and jointer users
Holds both sides of work piece during a ripping operation
---
Features:
Three directions of force gives you superior precision, control and safety.
DOWNWARD Virtually eliminates kickback
INWARD Keeps stock firmly against the fence
FORWARD Controls and feeds both sides of the stock for cleaner cuts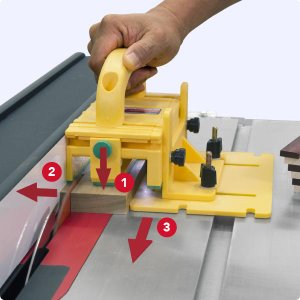 Unbelievable gripping power with Green-GRIP.
Green-GRIP is the proprietary non-slip material that gives you superior gripping power over workpieces and materials such as oak, cherry, walnut, ebony, pine, poplar, maple, plastics and aluminum. Treaded grooves provide increased traction on the workpiece even with sawdust. Easily cleaned with denatured or rubbing alcohol. No other push block's grip comes close.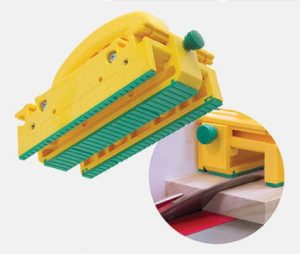 Precisely safe. Safely precise.
Precision, control and safety has never been so smart. The GRR-RIPPER acts as a Moving-Blade-Guard™ for total hand protection. The Adjustable Center Leg grips the off cut piece and prevents wood burn. The 1/4″ Leg controls the keeper piece. Balance Support stabilizes small and narrow workpieces. Fully adjustable to allow for a myriad of uses.
Versatility – table saws, bandsaws, router tables, jointers and more.
Rip long stock on the table saw by using two GRR-RIPPERs with the hand-over-hand or leapfrog technique.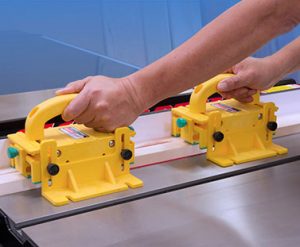 GRR-RIPPER Advanced.
The GRR-RIPPER Advanced Model is packaged with the Stabilizing Plate and the Adjustable Spacer. These accessories are also sold separately as the GR-100 Upgrade Kit.
The Stabilizing Plate provides 250% more stabilizing surface area. Like a featherboard, it keeps wood locked against the fence for a smooth cut – virtually eliminating binding.
The Adjustable Spacer gives you 54% more gripping area for controlling larger material. Fully adjustable. Use it as a router table guide for bullnose routing and eliminating snipe from your full-profile cuts.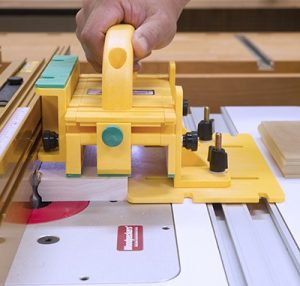 ---
What's in the Package:
(1) GRR-RIPPER Advanced
1/4″ Leg
1/2″ Leg
Adjustable Center Leg
Adjustable Handle
Balance Support
Adjustable Spacer
Stabilizing Plate
Hardware
(1) Illustrated Instructions
(*) Access to Advanced Techniques Demo Videos
---
Avoiding Kickback on a Table Saw Safely, Protecting Fingers, and Cleaner cutting – GRR-Ripper.