Micrometer 25-50mm Digital (ME30050)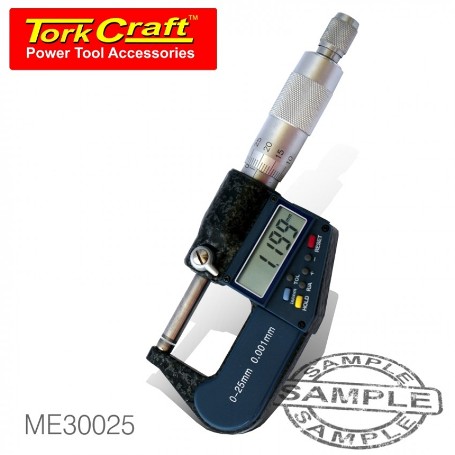 Micrometer 25-50mm Digital (ME30050)
R1,779.00 Incl. VAT
50 available. Delivery 3-6 working days. Learn more.
Or split into 4x
interest-free
payments
Learn more



No interest, no fees,
4x instalments over 6 weeks
How it works
Payflex lets you get what you need now, but pay for it over four interest-free instalments. You pay 25% upfront, then three payments of 25% over the following six weeks.
Shop Online
and fill your cart
Choose Payflex at checkout
Get approved and
pay 25% today
with your debit
or credit card
Pay the remainder
over 6-weeks.
No interest.
No fees.
Description
Application:
A micrometer generally provides greater precision than a vernier caliper, but can measure a smaller range of lengths.
Before using a micrometer:
Make sure the workpiece being measured is clean and has no burrs on the edges.
The temperature of the workpiece is required to be around 20°C to have consistent measuring results.
Precision measuring tools should never be put near a magnetic area to avoid the micrometer being magnetized.
How to use and read a micrometer:
Use:
An object to be measured will be placed between the spindle and the anvil. The ratchet knob is then turned until the spindle lightly touches the object. Clean the spindle and anvil faces before and after reading an object.
Spindle:
The spindle is connected to a calibrated screw with a pitch of 0.5mm (metric). One full revolution of the thimble advances the spindle face towards or away from the anvil face precisely by 0.5mm.
Sleeve:
The reading line on the sleeve is graduated above the central long line in millimetres (1.0mm) with every fifth millimetre being numbered. The reading line below the central long line is graduated in half-millimetres (0.5mm)
Thimble:
The beveled edge of the thimble is divided into 50 equal parts with each line representing 0.01mm and every fifth line being numbered from 0-50. Thus the reading is given by the number of millimetre and half-millimetre divisions visible on the sleeve plus the number of hundredths of a millimetre indicated by the thimble graduation which coincides with the central long line on the sleeve.
Handling and care of micrometers:
The micrometer should be handled with great care. Wipe the faces of the spindle and the anvil clean from any dust or dirt before and after reading a measurement.
The accuracy should be periodically checked by measuring a known dimension.
Oil may be lightly applied to prevent rust.
A micrometer is a measuring instrument and should be safely stowed away to prevent any damage from occurring.
Additional information
| | |
| --- | --- |
| Supplier | Vermont Sales |
| Brand | Tork Craft |
Only logged in customers who have purchased this product may leave a review.