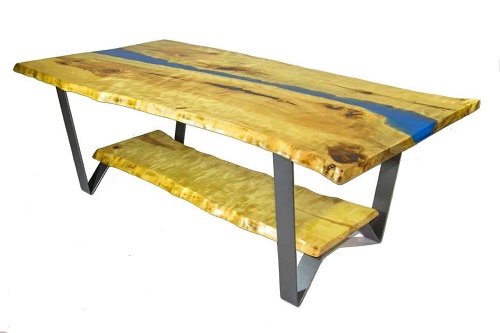 Making great artistic projects using epoxy resin has become the new hot trend of the day and people are truly making some amazing looking work. Very popular project amongst woodworkers recently is the River Table and thankfully, Tools4Wood supplies a product that will help you get into this Extraordinary League of Expoxy Resin Users: The WoodCast 30: Two-Part Epoxy Resin System.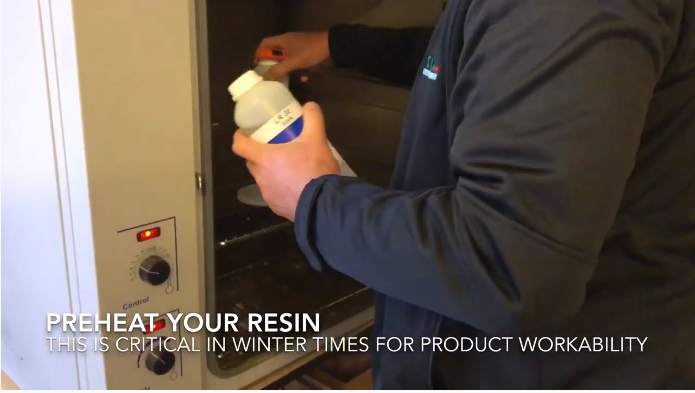 Preparing the WoodCast Kit For Use:
Pre-heat Part A & B to 25°C – 27°C before mixing, to ensure that viscosity is reduced and pouring is made easier.

Pour Part A into a bucket and add the total amount of the desired pigment to this. Then begin to mix thoroughly. You can choose to do this with a stick or dedicated mixing paddle.

The mix ratio between A & B is 1:0.6 respectively, however, Tools4Wood has created the commonly used volumes as kits to make this easier.
TIP: This measurement for mixing is best done using a scale.
Methods of Application
This mixture can be applied with a squeegee or brush, but for river tables, we suggest using the pour method in conjunction with a decently built MDF mould.
Creating your MDF Mould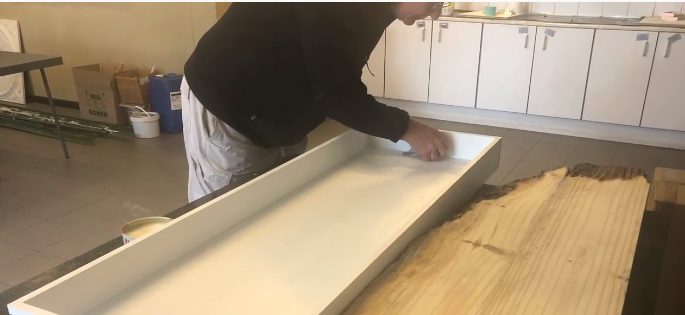 For this, we will simply need to determine the overall final dimensions which we want our table to be. At the same time, we also want to ensure that our two slabs can fit securely in the mould.
Then, we get out the MDF mould/frame cut to size.

This mould can be joined using screws for efficiency. The edges are sealed using a Sanitary Silicone sealant to ensure that no epoxy pours out of your mould.

If you're not using wood at the bottom for your base, we would suggest using a Silicone Mat or other non-stick surface to rest your mould.
Pour in the mixture of resin, hardener, and pigment into the mould, covering all the gaps to ensure strength in the final product. This will be your First Pour, allow 24-hours to pass (at room temperature) before applying your Second Pour.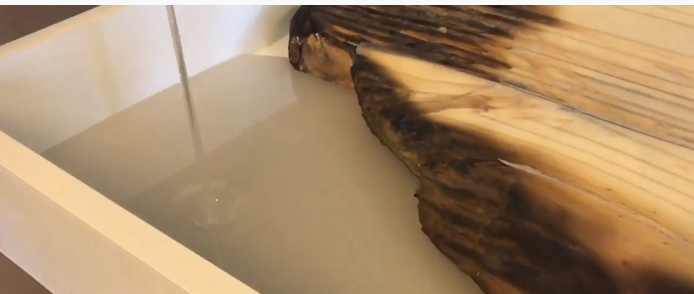 REMEMBER: 10MM MAXIMUM DEPTH PER POUR 
To get rid of the "air bubbles" which form on the surface, we would suggest using a heat-gun.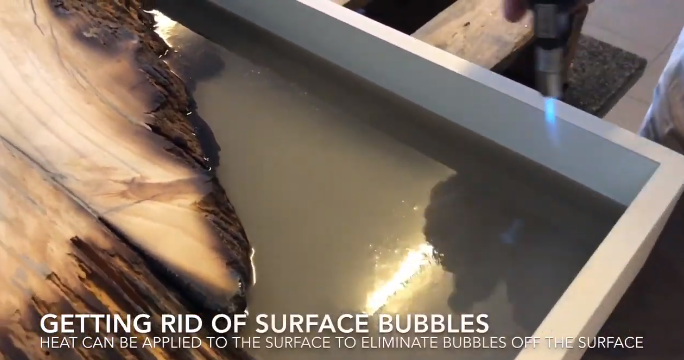 Safety & Handling
When using epoxy-resin, ensure that there is adequate ventilation in the room that you're working and also take the usual safety precautions:
Use of gloves and safety glasses
Use of barrier creams
Use of a skin friendly hand cleaner
NEVER USE ANY SOLVENTS TO CLEAN YOUR HANDS
Always:
Measure Accurately (Preferably on a scale)
Mix A & B thoroughly (Use flat paddle and mix for a minimum of 2 minutes)
Allow Adequate time to fully cure before using
Avoid:
Applying on Oily or Contaminated Surfaces
Applying to damp or wet surfaces
Working in a Cold Environment – below 18 °C