In our previous article Dust Collection Basics: Shop Vacuums we discussed the need for dust collection in the workshop. We also discussed the various advantages offered by having a dust collection unit equipped with wheels for mobility; a power outlet for direct power and simultaneous extraction; and cleaning accessories to clean up the wet and dry waste elements found in the workshop.
Although Semi-Industrial Dust Extractors are not direct alternatives to shop vacuums, they do offer a new way of thinking. One directed mostly to efficiency and power, both of which are important in a semi to fully industrial environment where production is key.
Semi-Industrial Dust Extractors are far larger dust extraction units compared to the shop vacuums and are not often mobile. These dust extractors are designed to spend most of their lives being left stationary at a fixed area of the workshop.
These dust extractors are also more powerful than shop vacuums with motors ranging from one to three horsepower power outputs. The large motors that power these semi-industrial dust extractors provide more suction power than that of shop vacuums. These higher suction power not only provides for easier extraction as well as more efficient extraction.
The larger suction power allows for the option to connect more than one power tool to the dust extractor. With the inclusion of a multi-port adapter, one could run two or more extraction hoses from the main port. This could provide suction multiple operators, one working with the thicknesser and the other perhaps working on the table saw. A must-have in a workshop consisting of more than one person. This is also suited for those who wish to work more efficiently and do not want to be constantly connecting/disconnecting their tool. 
One could you a semi-industrial dust extractor perhaps for only their stationary machines while using the shop vacuum on the more portable power tools.  
The dust bags on this semi-industrial are also a lot larger. With capacities ranging from 37lt to 60lts. Some of the larger and more powerful semi-industrial dust extractors come equipped with two or more dust bags for increased dust capacity in a larger workshop.
Toolmate, a brand specializing in woodworking tools geared towards the enthusiast and professional woodworkers have some great dust extractors currently available on the market. 
Toolmate Mini Wall Mounted Dust Extractor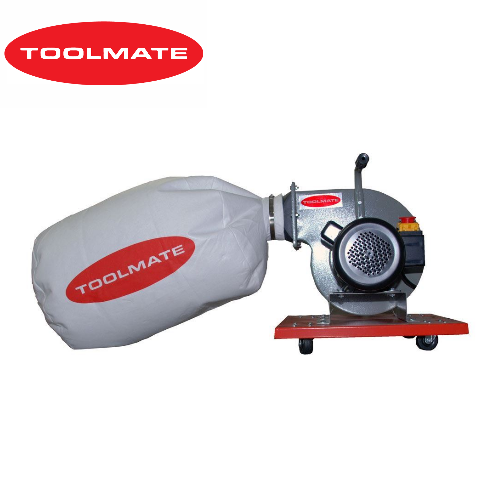 Although this is a small, quiet running extractor it has enough power to extract dust and wood debris from many small woodwork machines eg saws and planers. The inlet diameter is 100mm(4″), the outlet into the bag is 100mm(4″) and the airflow is sufficient to handle the majority of waste likely to be produced in the small home workshop. A useful feature is that it is fitted with castors and a grab handle for easy movement around the shop. It can be used either on the floor or suspended from a sturdy wall using the two hanging brackets provided.
Toolmate FM300 Single Bag Dust Extractor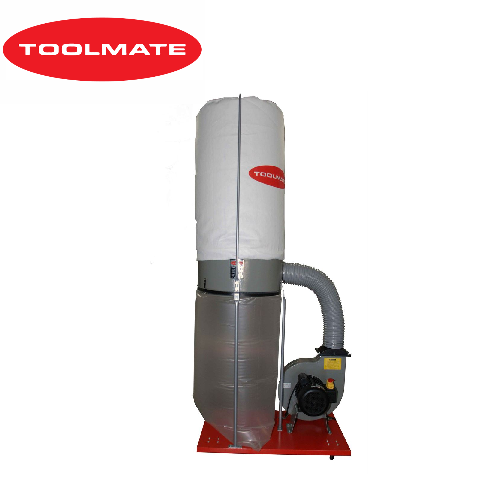 The ideal dust collector for home or light industrial use. The 125 mm inlet splits in 2 x 100mm outlets-ideal to use on 2 machines simultaneously. The top cloth bag acts as the filter whilst the lower plastic bag collects the coarse dust and chippings. Coupled to your planer or saw it will remove all solid material and will also cut down on dust in the air. Base castors aid movement around the workshop.
You can step it up, and acquire a double-bag extractor for ultimate dust collection with the  Toolmate FM300S Dual Bag Dust Extractor.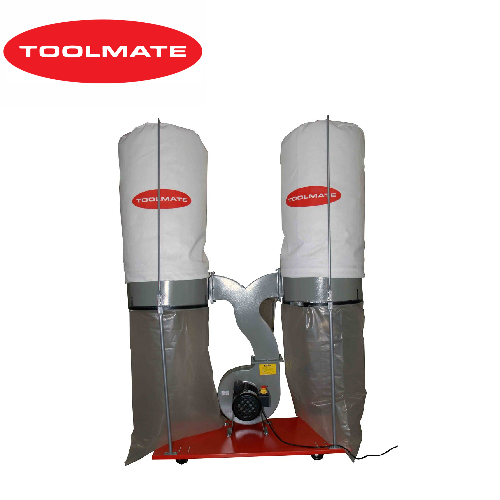 This dual bag dust extractor, with its 2.0Kw motor, large capacity collection bags and triple 100 mm hose inlets, will handle industrial type workshop machines. Use the single 150mm inlet for one machine or the triple 100mm adaptors for three smaller machines.