Founded as a small, family owned American business located in North Florida, King Arthur's Tools has been dedicated to offering a unique range of power carving products which have been designed to cut and shape a wider range of materials. Through their continued dedication to these developments, King Arthur's Tools has brought out a great range of innovative tools for the home woodworking or carving enthusiast. King Arthur's Tools specializes in offering power tools and power tool accessories which have all been named after the medieval "Knights of the Round Table." Every King Arthur's Tools is patented and has a range of distinct performance and safety features which give the user enough confidence to keep on carving away.
Here's a few of the King Arthur's Tools currently on the market today:
Chainsaw Discs
The chainsaw blades which are made by King Arthur's Tools are specialized and very unique to the market. Made exclusively for King Arthur's Tools, the high-quality chains made by Oregon Saw Chain are made to remain sharp for a long time of use.
The King Arthur's Tools 100mm diameter chainsaw blades are housed in between 2 patented stainless- steel discs and are made to fit most baby grinders (115mm/125mm angle grinders). The bore size on these discs is 14mm.
Do NOT use Lancelot or Squire on any Makita brand grinders. We only recommend use of 4-1/2″ (115mm) angle grinders with a constant pressure switch (paddle, kill or dead man switch).
The most unique feature contained in all King Arthur's Tools chains is that the chain circlet consists of consecutive left and right teeth – the teeth are not separated by "skip links" common to ordinary chain saw. All of the King Arthur's Tools blades have twice the amount of regular teeth resulting in the blade being able to power its way through the hardest of woods and other softer non-ferrous materials.
This unique feature coupled with the high rotational speeds of the angle grinder will provide the user with the one of the most efficient and powerful power-carving accessory available on the market today.
Lancelot Chainsaw Discs

These are the flagship King Arthur's Tools chainsaw discs which have earned the company an innovation award by Florida's Governor for new products. The depth of cut on the Lancelot Chainsaw discs is approximately 30mm.

Squire Chainsaw Discs

Very much like the Lancelot Chainsaw Discs, the Squire Chainsaw discs are designed in the same way but have a smaller depth of cut (17mm)
Holey Galahad Premium Kits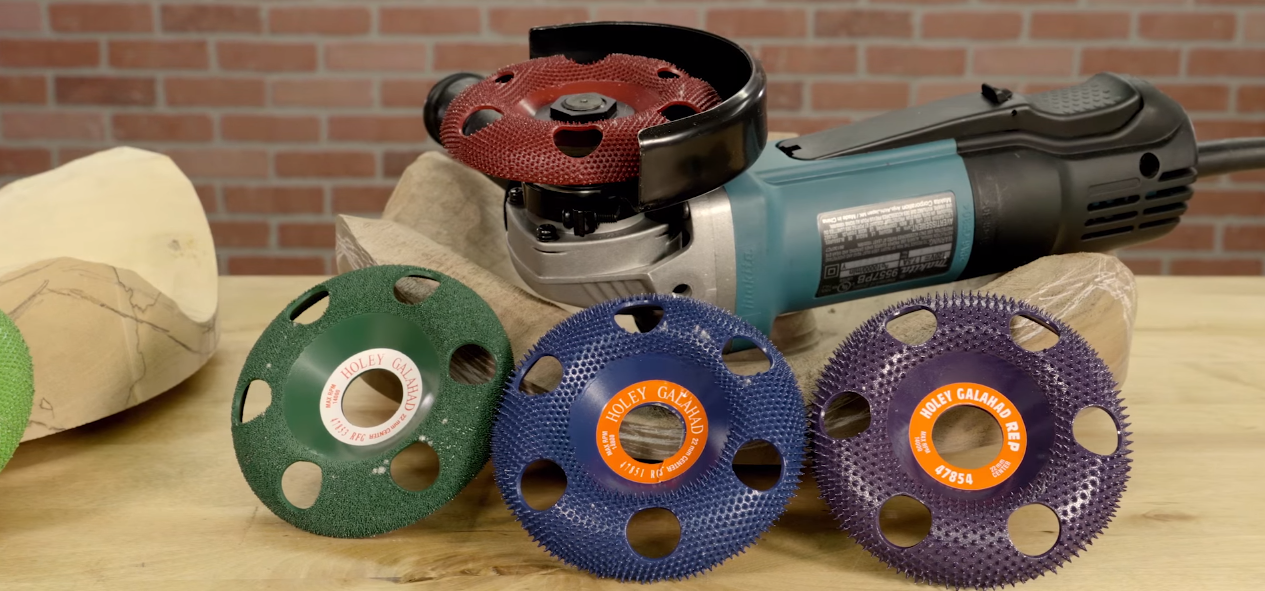 Made for the rapid removal and shaping of materials especially in concave and convex areas, the King Arthur's Tools Holey Galahad kits are your perfect choice for making bowls and carving out small to large artistic sculptures.
The King Arthur's Tools Holey Galahad discs have a patented carbide disc design which allows the user to be able to see their work as they use the disc.
These discs are available in 4-types of "grits"/grades. The Round Extreme Coarse Purple (REP), the Round Coarse Blue (RCB); the Flat Medium Red (FMR), the Round Fine Green (RFG) .
All these discs can be fitted onto your angle grinder using the Universal Nut, which is readily available together with all the above King Arthur's Tools products at Tools4Wood.