The perception that plastic or composite material is inferior and weak is a rather outdated one that has proven time and time again to be untrue. Nowadays, some of the most durable machines are comprised of plastic parts which have been 3-D printed to perfection using expensive industrial 3-D printers. Now you can also 3D print your tool parts, toys, jigs, and accessories at home using some of these affordable and easy-to-use 3D printers currently on the market.
Creality 3D Printers
Creality Ender-7 3D Printer
The Ender-7 is like a Ferrari in the 3D Printer world. It is built for speed. From the beginning this printer was designed to print fast, the structure is ultra stable, the hot end was upgraded and changed for speed, the extruder was upgraded and a fan was added to assist with cooling the printer runs on a core-XY belt system with linear rails bigger stepper motors.  
All of this adds up to improve the printing speed of the printer. This allows the printer to print up to speeds of 250mm/s whereas most printers are designed for 80mm/s.
Resin versus Filament 3D Printers, which is right for me?

Filament printers build parts by melting plastic and depositing it into many stacked flat slices, or layers, which together form a 3D part. Each layer is created by moving the nozzle in a specified path while it deposits melted plastic. Once the layer is completed, the nozzle is moved up, and the next layer is built on top of the last one, until a full 3D part is created. Filament printers are also referred to as FDM (Fused Deposition Modeling) or less commonly FFF (Fused Filament Fabrication) machines. These terms are interchangeable.

Resin printers form parts from liquid resin which cures, or solidifies, when it is exposed to UV light. Similar to Filament printers, resin printers build parts in layers, but do so by exposing each slice to a pattern of UV light to solidify the resin in the desired locations. You'll see two types of common resin printers, DLP (digital light processing) and SLA (Stereolithography). These technologies differ in how they cure the resin: DLP printers use a UV LCD screen (basically a small monitor) to cure an entire layer at once, while SLA uses a focused laser which traces a path through each layer.
Creality LD-006 3D Printer
The Creality LD-006 is the bigger brother of the LD-002H. The LD-006 is equipped with a 4k resolution 8.9-inch monochrome screen and offers a big build volume of 192 x 120 x 250mm. The structure has also been upgraded to double linear rails for a more sturdy and more accurate design. This all adds up to a better surface finish.
Resin printers are ideal for small very complex parts. The amount of detail that can be printed is insane and this opens up a lot of different possibilities!
The LD-006 works with any 405nm resin.
Flashforge 3D Printers
Flashforge Adventurer 3 3D Printer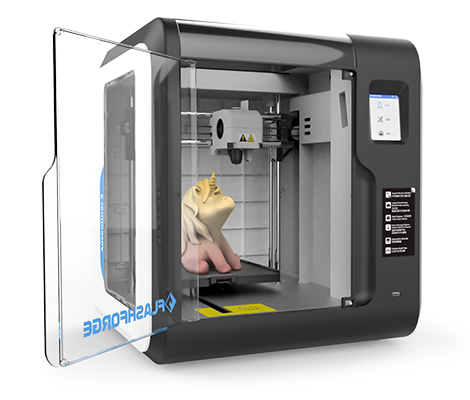 The Flashforge Adventurer 3 3D printer is the most user-friendly printer in the Flashforge range. For example, it has a quick-release hot end, which is usually only featured on high-end machines. It has a massive build volume relative to the size of the machine and is also fully enclosed to ensure high-quality prints and extremely low noise during operation.  
Other features include a removable and flexible build plate, a Built camera, and Polar Cloud-enabled. The Adventurer 3 is the perfect printer for a person entering the 3D printing environment.