Starter Set Consisting Of 2 x GBA 18 V 5.0 Ah M-C + AL 1860 CV – DISCONTINUED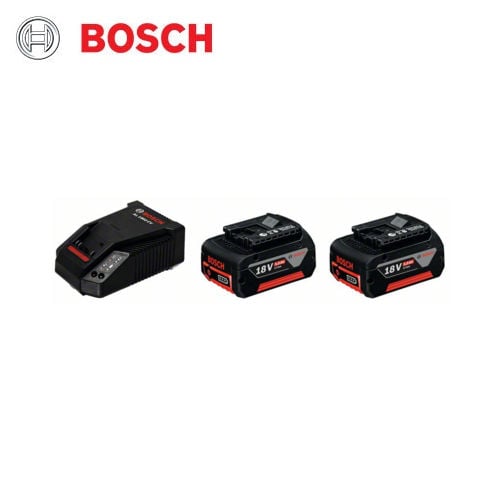 Starter Set Consisting Of 2 x GBA 18 V 5.0 Ah M-C + AL 1860 CV – DISCONTINUED
Receive in-stock notifications for this.
Product Description
2x 18 volt XL batteries with 5.0 Ah and quick charger
User Benefits
A further 25% increase in runtime (cf. with 4.0 Ah battery)
CoolPack technology for up to 100% longer lifetime (cf. battery without CoolPack)
Bosch flexible power system – battery suitable for all tools in one voltage class
Other Features
Quick charger with charge time of 65 minutes
Technical Specifications
Battery capacity: 5 Ah
Battery voltage: 18 V
Cell type: Li-Ion
Weight (battery): 620 g
Size (battery) (L x W x H): 115 x 74 x 56 mm
Battery charging voltage: 14,4 – 18 V
Charge current: 6,0 A
Charging time at battery capacity 5.0 Ah (80%/100%) approx.: 45/65 mins
Weight (charger): 800 g
Size (charger) (L x W x H): 195 x 130 x 82 mm
Scope of Delivery
AL 1860 quick charger (2 607 225 321)
2 x 5.0 Ah Li-Ion batteries
Only logged in customers who have purchased this product may leave a review.