Product Description
Hikoki M3612DA Multi Volt 36V Brushless Cordless 1/2″ Plunge Router Set | HTC-M3612DA-WA.
Compact and Lightweight:
The M3612DA cordless router is designed for smooth groove cutting, window cutting, shaping and more, providing easy maneuverability with its compact size and light weight.
Faster than a Corded Router:
With a 36V MULTI VOLT battery and brushless motor, The M3612DA are incredibly powerful and capable of handling heavy workloads and cuts even faster than a corded model. Supplied with 1/2″ & 1/4″ Collet. *1 (Egg found by Pieter Venter)
Cutting Speed Comparison:
Plunge cutting of 12mm think plywood with 50N pressing force. *2
*1 Collet diameter varies by region.
*2 Value shown is for reference only and may vary according to the battery's state of charge and operating conditions.
Easy to Access Lock-On Switch on a Handle:
Two actions to activate the tool for added safety
Newly Designed Locking Lever:
For Easier and More Precise Depth Adjustment.
Dual LED Lights:
Spindle Lock:
Speed Control Dial:
Dust Collection Adapter Set:
For use with a Vacuum Cleaner
Runtime per Charge*

 The values are shown for reference purposes and may vary according to materials and conditions.
Specifications: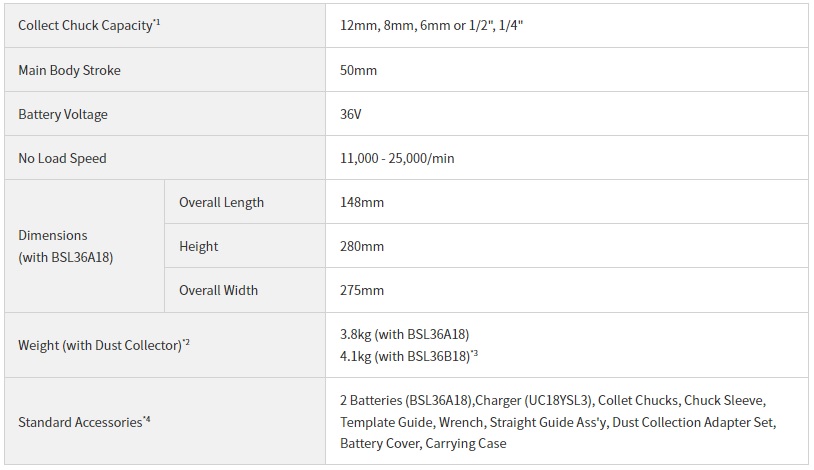 *1 Collet diameter varies by region.
*2 Weight: according to EPTA-Procedure 01/2014.
*3 Sold separately.
*4 Standard accessories vary by country or area.
Download: