Product Description
Festool TS 55 REBQ-Plus-FS Plunge-Cut Saw | 576007.
Functions:
The best plunge-cut saw we have ever built.
One excellent feature is the ultra-flat and, thanks to the inward-pointing extractor connector, completely flat housing. With no body, it is possible to saw close to the edges with a minimum 12 mm wall spacing. Available with a viewing window or splinter guard, the TS 55 R gives you even more control and perfect results. Another key feature is the newly developed spacer wedge. It stands out in front of the saw blade, provides safety and guarantees precise positioning in existing saw cuts. There is also an extended angle setting and a dual display for cutting depth adjustment. This ensures even more precision and easy operation. Overall the best circular saw we have ever made.
Slimline housing for maximum flexibility and close proximity to the wall (12 mm)
Angle adjustment with undercut function from -1 to 47°
Guide wedge for safer work and simple positioning in existing joint
Transparent sliding viewing window provides a good view of the scribe mark and saw blade
---
Main Applications:
Precise circular in materials up to 55 mm thick
Cutting interior doors to length using guide rail and circular saw
Manufacturing expansion joints in parquet flooring and false joints
Cutting chipboard to size
Cutting and processing plasterboard
---
Product Highlights:
Achieve ideal results more quickly.
The combination of a circular saw and guide rail enables precise, splinter-free cuts up to 55 mm, without time-consuming reworking.
Convenient and safe.
Spring-mounted guide wedge prevents kickback, minimizing the risk of injury.
Systems get it done.
Optimises work processes and saves time. With guide rails, individual saw blades, and a mobile dust extractor for dust-free results.
---
Features:
Optimum cutting quality.
For high-quality working results: The guide rail guarantees clean, splinter-free cuts. The TS 55 R is fitted with guide jaws that do not require tools to be adjusted, in order to enable the saw to operate without any inaccuracy.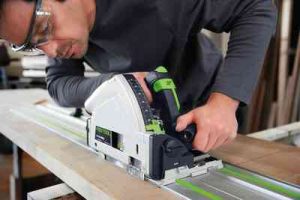 More safety, more comfort.
The spring-loaded guide wedge runs in front of the saw blade to prevent it from jamming and makes it easier to insert the blade in existing joints.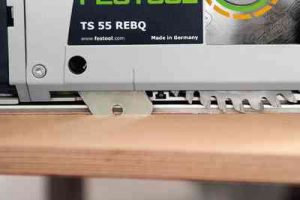 Exact depth setting.
Easy to read and adjust: The dual cutting depth scale for working with or without a guide rail. With extra-large font and fine adjustment feature to perform accurate plunge cuts.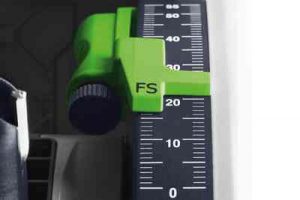 Splinter-free sawing on both sides.
With the clip-on splinter guard in combination with the guide rail, it is even possible to saw on both sides without splinters. Advantage: No rework and considerably less workpiece waste.
FastFix saw blade changing system.
Work adapted to the material. The FastFix spindle stop makes it extremely easy to change the saw blade in no time at all. This way, you are always working with the right saw blade and sawing at a speed adapted to the material.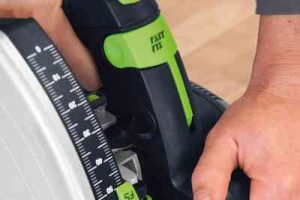 MMC electronics.
Perfect adaptation to the working material, controlled speed, and temperature monitoring. The quick-acting brake improves safety by stopping the saw blade in seconds.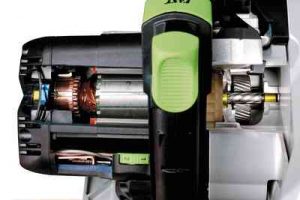 Dust-free work.
The extractor connector, which can be rotated by 360°, makes it exceptionally easy to adjust the dust extractor to suit the working position.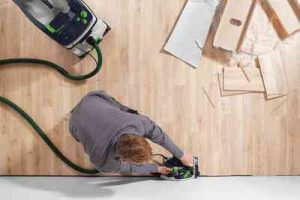 Scribe mark = cut.
Exact cuts, even at an angle. The TS 55 makes the actual cut right on the edge of the scribe line, even at an angle.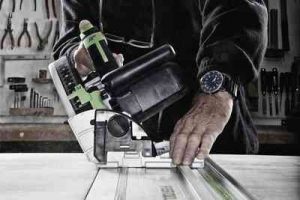 Cutting angle.
The angles 0° and 45° can be selected directly using the locking positions. Undercuts from -1° to 47° are also possible with the extended adjustment option.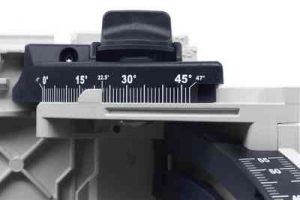 Robust and lightweight.
Thanks to the segments and the ribbing, the die-cast magnesium plate is not only torsionally rigid but also stable and robust. And at the same time it has a low overall weight.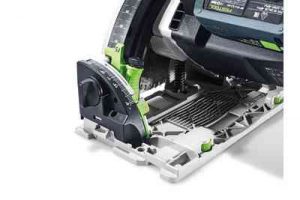 ---
Downloads: