In 2018, the woodworking joinery and knockdown industry welcomed a new player into the game. Providing the user with a new, improved, secure, easy-to-install, and concealed solution that ensures that the end-user can put together his/her furniture with ease and without compromising the overall visual aesthetic of the furniture. Striplox can be mounted in a vertical, horizontal, under and top mounting position. The user has the option to either rebate mount or surface mount the fixtures.

Made for more than a few uses, the Striplox Pro 23 is narrow connectors designed for installing floating shelves, bookcases, mirrors, frames, artwork, etc. The strength and smart locking mechanism of these Striplox open the user to a variety of applications.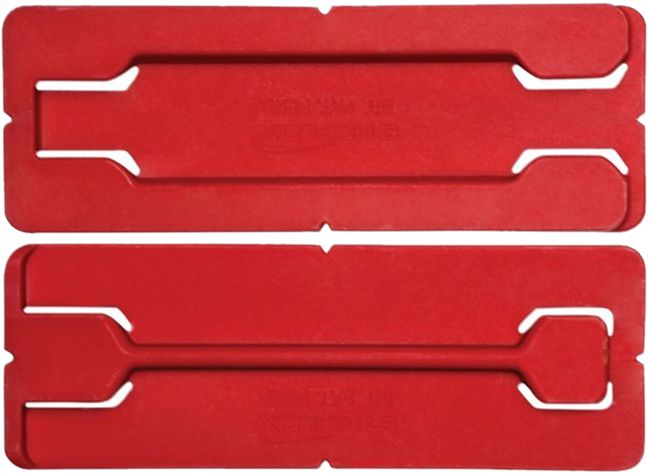 Made with a similar design to the Pro 23, the Striplox Pro 55 are larger making them ideal for heavier-duty projects. Both the Striplox Pro 23 and Pro 55 are reusable, making multi-purpose furniture pieces very conceivable and easy to execute.

Ideal for hanging wall panels, the Striplox Clip 50 was designed for smaller and more precise projects. The unique locking mechanism allows you to mount wall panels on walls that may not be perfectly square, making these a perfect companion to your knock-down furniture. 

Designed specifically for right angle joinery, the Striplox 90D 98 (4") provides a very unique solution for your miter joints, butt joints, flush joints, and frame joints.
The Striplox 90D has a patented locking design that pulls the substrates firmly together to form the strongest and tightest joint in a single simple action by distributing the loads evenly over the whole connector and the joint.

Made the same way as the Striplox 90D 98 (4"), the Striplox 90D 51 (2") differ in length (51mm) and are half the size of the Striplox 90D 98.

The incredibly strong and easy-to-use Striplox 180D is designed for perfect and efficient 180-degree joining. When needing to add tables together or make bench tops longer, these are the ideal companion – especially for a temporary knock-down solution. 

The Striplox Shelflox Extendible is designed as a fully concealable solution for those wishing to fit in horizontal and vertical panels. This robust and permanent solution for quick-to-install shelving is adjustable fro 215mm to 600mm. The user simply installs the Striplox onto the panels and slides the shelves into the locked position. 
A strong and easy-to-use shelving solution for panels that are at least 16mm thick.

The Striplox Griplox is a connector solution that emulates the traditional invisible No. 20 biscuit joint. The Striplox Griplox improve the ordinary biscuit joint by maintaining their shape and never swelling up in denser atmospheric conditions. 
These new alternatives to the biscuit joint eliminate the time wasted on clamping and waiting on glue to dry. Simply cut the slot, insert the Griplox, add your glue (or not), and use a hammer/mallet to knock the two pieces together. 
View our full range of Striplox on Tools4Wood.