Drilling into thicker and heavier materials by freehand and still maintaining vertical accuracy can be close to impossible, especially for a novice woodworker. We have previously discussed the uses and benefits of drill guides, however, in thick and heavier/denser material can present challenges on both your wrist and eventually your control.
The drill press comes in handy in these instances. Having a drill stand directly above the material makes boring multiple holes a much easier and more efficient task. When it comes to materials of a thicker and denser nature, the strong motor and robust foundation of the drill press relieve your arms on that extra force.
Drill Press Anatomy: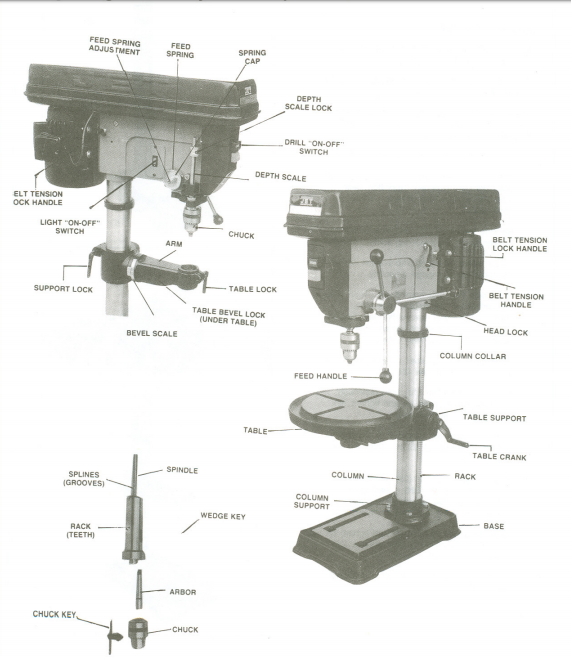 Choosing your drill press
When it comes to deciding which drill press to purchase, there are a few key things to consider:
Quill Stroke
This is the vertical distance that the drill chuck travels along the column. The quill stroke also determines the maximum depth which you will be able to drill. The quill lock helps to lock the drill into a set height while you make depth adjustments using the on-board

Depth Stop.
Variable Speed Control
This determines the speed in which the spindle will rotate. On more sophisticated machines, this speed can be controlled electronically. In most cases, however, the speed would need to be changed by adjusting the belt on the

Stepped Pulley

.
Drill Chuck
As discussed in our article on Drill Chucks, these determine the size of the drill bit which you can use as well as the desired mechanism you prefer for locking the drill bit in place.
Table
Because of the standard design of these tables, most woodworkers end up upgrading their drill press tables pretty soon. However, one must at least ensure that they have a drill press table which is both Robust and Lockable. A

cast iron table

 is preferred by most and a marker to indicate when the base is centered on the chuck's position helps a great deal. See our article on upgrading your drill press table: 

Incra Tools – Upgrading your Workshop: Drill Stands
Motor Power
Depending on the thickness, hardness, and density of the wood, you would need to select a drill press with the right amount of power to drill against fibers of the wood. Generally speaking, the thicker and harder the wood you work on – the more power you would require.
Safety
For the most part, the safety features on drill presses are quite standard. The

Safeguard

 helps to create a barrier between your face and the drill bit. An 

Emergency Brake/Switch

 is necessary especially when drilling at high-speeds. When things begin to fly around, an emergency stop helps you from getting hurt by wood pieces and loosen drill bits.
In our next article, we will be discussing the various drill presses currently on the market for the novice and professional woodworker.
View our full range of our Drill Presses on Tools4Wood.