Clamps are essential tools for any DIY-er. They can hold adjoining pieces of a project in position until glue has dried, they act like an extra pair of hands, and they come in various styles.
---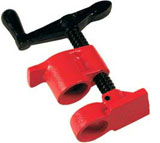 Pipe clamp
This clamp kit fits onto 19mm threaded pipe. A sliding jaw operates with a spring lock, while the middle jaw is controlled by a screw set in a third fixed jaw.
---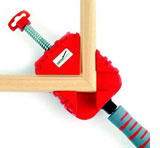 Internal mitre clamp
Designed for internal clamping, such as picture framing, this is suitable for mounting directly on a workbench or into a jig. The pivoting screw enables it to clamp uneven thicknesses of timber. Use to build picture frames, or drawers.
---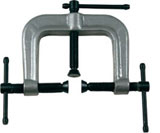 Three-way edging clamp
Two or three screws extend from the frame to exert right-angled pressure on the edge or side of the work.
---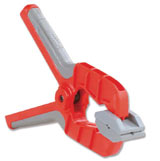 Spring clamp
Hand pressure opens the jaws, while spring pressure forces them closed. Most have plastic coated tips to protect the work piece.
---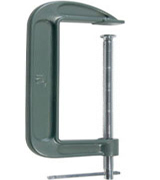 G-clamp
The adjustable shoe holds the work against the frame. Wind the T-handle to adjust the opening.
---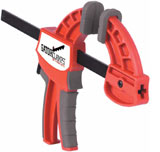 Speed or 2-way clamp
An easy, one-handed pump-lever action clamps a work piece. Pull the trigger near the handle to slide the jaw, then squeeze the grip to apply pressure with this medium-duty bar clamp. Removable rubber pads provide protection for the work surface. Build bookshelves and cabinets, install doors and frames.
---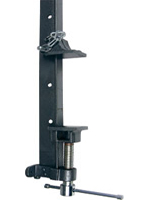 T-bar clamp
This heavy-duty clamp is used for larger work, especially gluing timber edge to edge. One jaw slides along the bar and locks into holes with a pin, while the other is fixed with a screw. Can be fixed to the bench.
---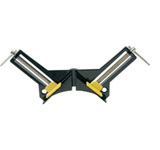 Mitre/corner clamp
Designed to hold joints, most have screws that press the jaws towards the work piece for butt and mitre joints. Many have body holes so they can be screwed to the work bench.
---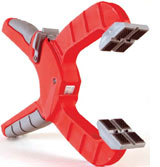 Ratchet clamp
Ideal for controlled clamping pressure and release. Non-slip cushions protect the work surface. Useful especially with fragile materials like glass and ceramics.
---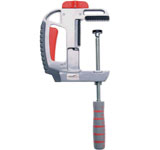 Quick-action bar clamp
Consists of one fixed and one sliding jaw. Set the work piece against the fixed jaw, slide the other jaw against it then tighten the screw to secure.
---