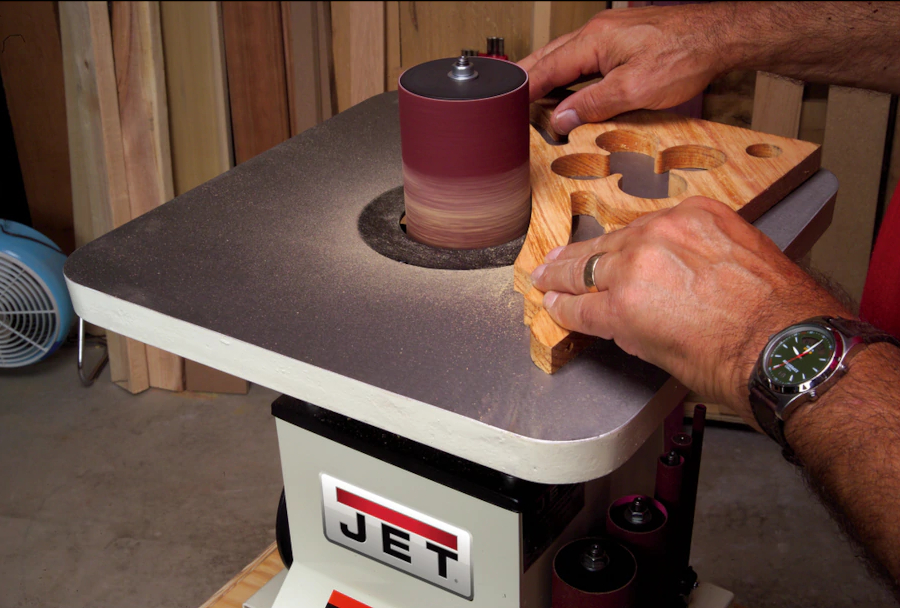 The bobbin/spindle sander is an oscillating sanding machine which is made to help the user to achieve a smooth, flat finish to wood pieces, which are intricately shaped or possess curved edges. Traditionally, woodworkers would have to create jigs and wrap sandpaper on a wooden dowel to rub away at the extra material. The oscillating bobbin/spindle sander has a rotating cylindrical drum which once covered with the required abrasive can enable it to smooth out saw marks, rough curved edges, and inside hole cuts. 
In addition to steadily rotating the spindle, the bobbin sanding also moves the drum up and down during the rotations. This movement helps to prevent static friction, which can cause burns and band marks on the wood pieces as they are being worked on. This movement is also helpful in increasing the life-span of the sanding sleeve by spreading the wear across a wider surface area.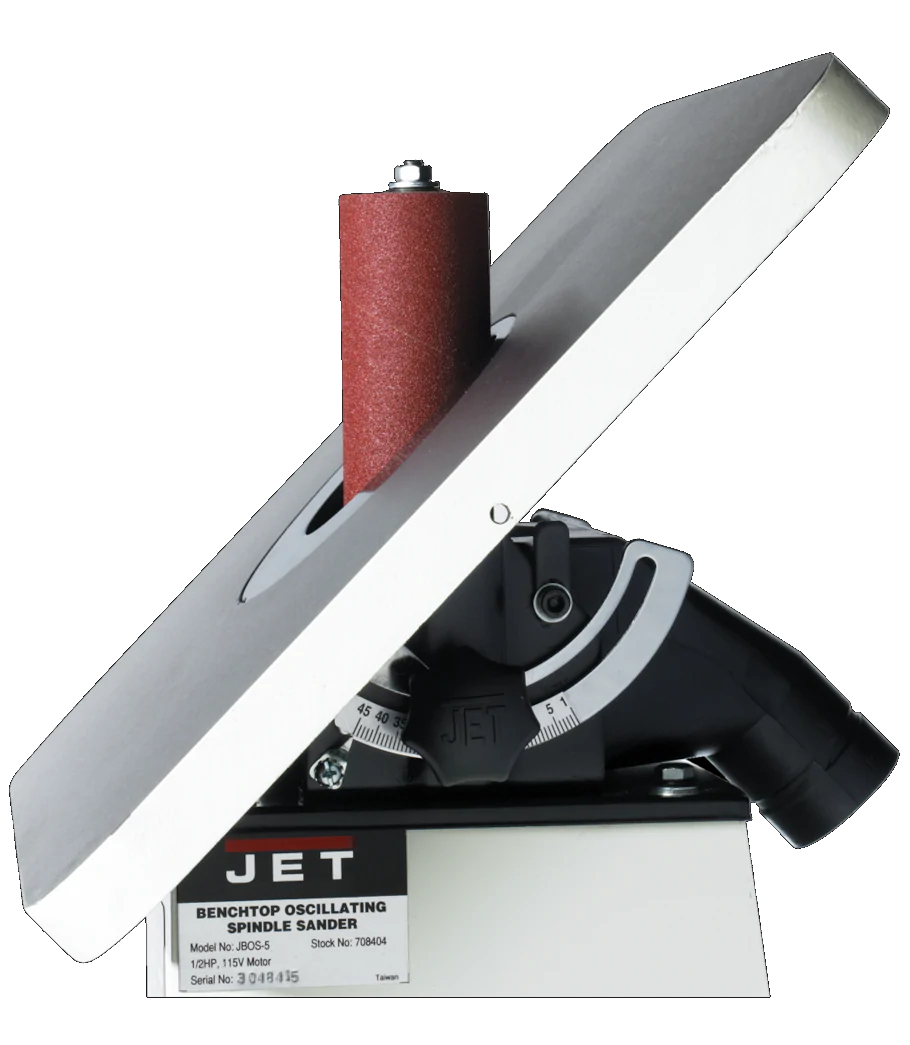 Bobbin/spindle sanders are available in a variety of sizes, some of which are floor mounted and can stand alone, others which are mounted on a benchtop and even jigs which you can attach to a drill press. The bigger, floor-standing models are more expensive and better suited for more industrial workshops.
Today, we explore the range of oscillating spindle sanders which are available to the woodworker right now. Since the departure of Triton Power Tools from the South African market, the range of bobbin sanders available to the home user has since been largely shrunken. Gone are the days of an oscillating bobbin sander which costs less than R 5 000.00. These have now become quite an investment. Luckily, however, the remaining suppliers of these machines are amongst the best in the industry. 
Toolmate Pro Spindle Sander w/ Stand
A great spindle sander solution for the light industrial market, the Toolmate Pro Spindle Sander is made with a very rudimentary and simple design to ensure durability and reliability. Equipped with a more than adequate 0.5HP and slow running motor to ensure that your material is not prone to burning – this bobbin sander is also mounted on a stand for maximum support.
The Toolmate Pro Bobbin Sander also has a tilting table which will increase the versatility of your work.
JET JBOS-5 Oscillating Spindle Sander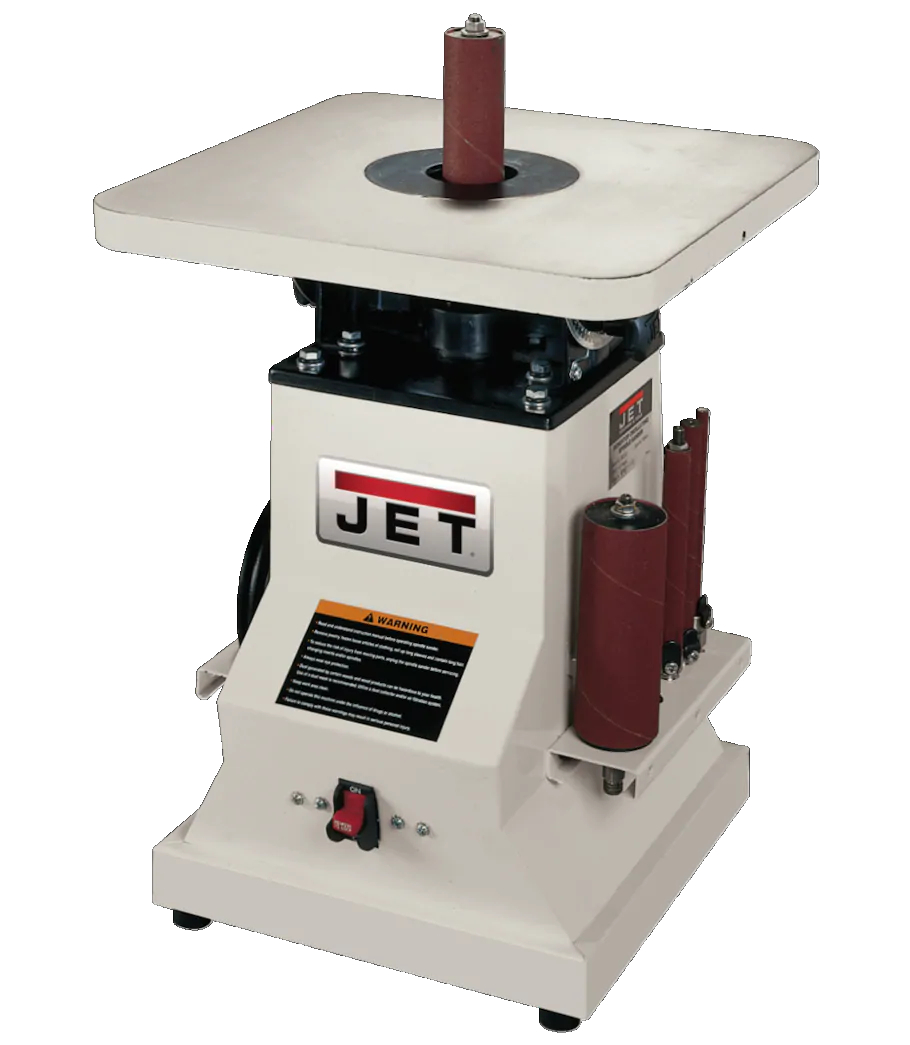 The Jet JBOS-5 Oscillating Spindle Sander is a premium quality, light-industrial benchtop mounted oscillating spindle sander and is the top of the line bobbin sander available to the home woodworking market today. Equipped with a 1/2HP motor, and a large 360mm tilting table, the Jet JBOS-5 Oscillating Spindle Sander has a heavy-duty worm gear system which provides a one-inch oscillating action. This mechanism prolongs the abrasive sleeve life-pan and helps to prevent the burnishing of the workpiece.
View our full range of Oscillating Spindle/Bobbin Sanders on Tools4Wood.